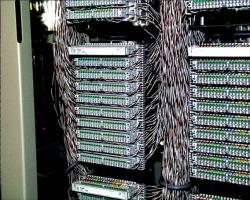 Select other categories -
3M Quante SID System
and:
---
---
Quante SID modules
With the SID product family 3M is setting the standards for high density IDC termination combined with improved handling. The main applications are in telecommunications and data networks.
The SID insulation displacement contacts are enclosed by the plastic housing of the module. This improves the insulation performance and helps in providing a safe working practice.
The SID product family is available in 8 and 10 pair connection and disconnection modules.
3M´s individual mounting systems reflects the trend towards improved handling. Backmount frames or profile rails are available as required, and also "FlexiRail" as an individual mounting system for targeted applications.
A significantly increased capacity compared to other techniques is achieved with the compact SID-C module. A wide range of accessories and a comprehensive overvoltage protection complete the product family.