Product Search
Information
Back to PORTAL
Product Details
FO-R12 Fiber Ribbon Access Tool
Art.No.:
80745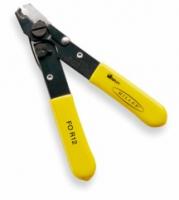 Fiber Ribbon Access Tool for 12 Count Fiber Ribbons
No ratings.

Manufacturer:
RIPLEY
Ready for shipping
FO-R12 Fiber Ribbon Access Tool
Removes outer jackets from 12 count fiber ribbons
Factory set, requires no adjustment
Prevents scratching and nicking or optical fibers
All cutting surfaces are precision formed, hardened, tempered and ground assuring precise buffer removal
Tools for other fiber counts available upon request
Media files
Tags
[!] Price Alert
We are happy to inform you about a price change of this product respectively when it hits the price you want to purchase.
Write Product Review
Current product

FO-R12 Fiber Ribbon Access Tool
Art.No.:
80745
Fiber Ribbon Access Tool for 12 Count Fiber Ribbons