Product Search
Information
Back to PORTAL
Accessories
Product Details
Single-Fiber Splicer
Art.No.:
KOC-720B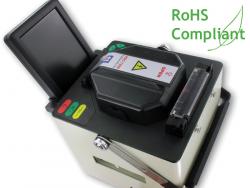 Single-Fiber Fusion Splicer
No ratings.
Manufacturer:
KAMAXOPTICS
Ready for shipping
Single-Fiber Splicer
The KOC 720B Single-Fiber Fusion Splicer has been designed specificallz for field work. With both automatic and manual modes, it will splice SM, MM, DS, NDSF and EDF with losses comparable to much more expensive splicers. Apart from it's very competitive price, perhaps it's strongest point of this RoHS compliant product is it's battery. A single charge will give 180 continous splices and heats.
See the downloadable datasheet on our website for more information and contact us now for how this product could help you.
Media files
Tags
[!] Price Alert
We are happy to inform you about a price change of this product respectively when it hits the price you want to purchase.
Write Product Review
Current product

Single-Fiber Splicer
Art.No.:
KOC-720B
Single-Fiber Fusion Splicer